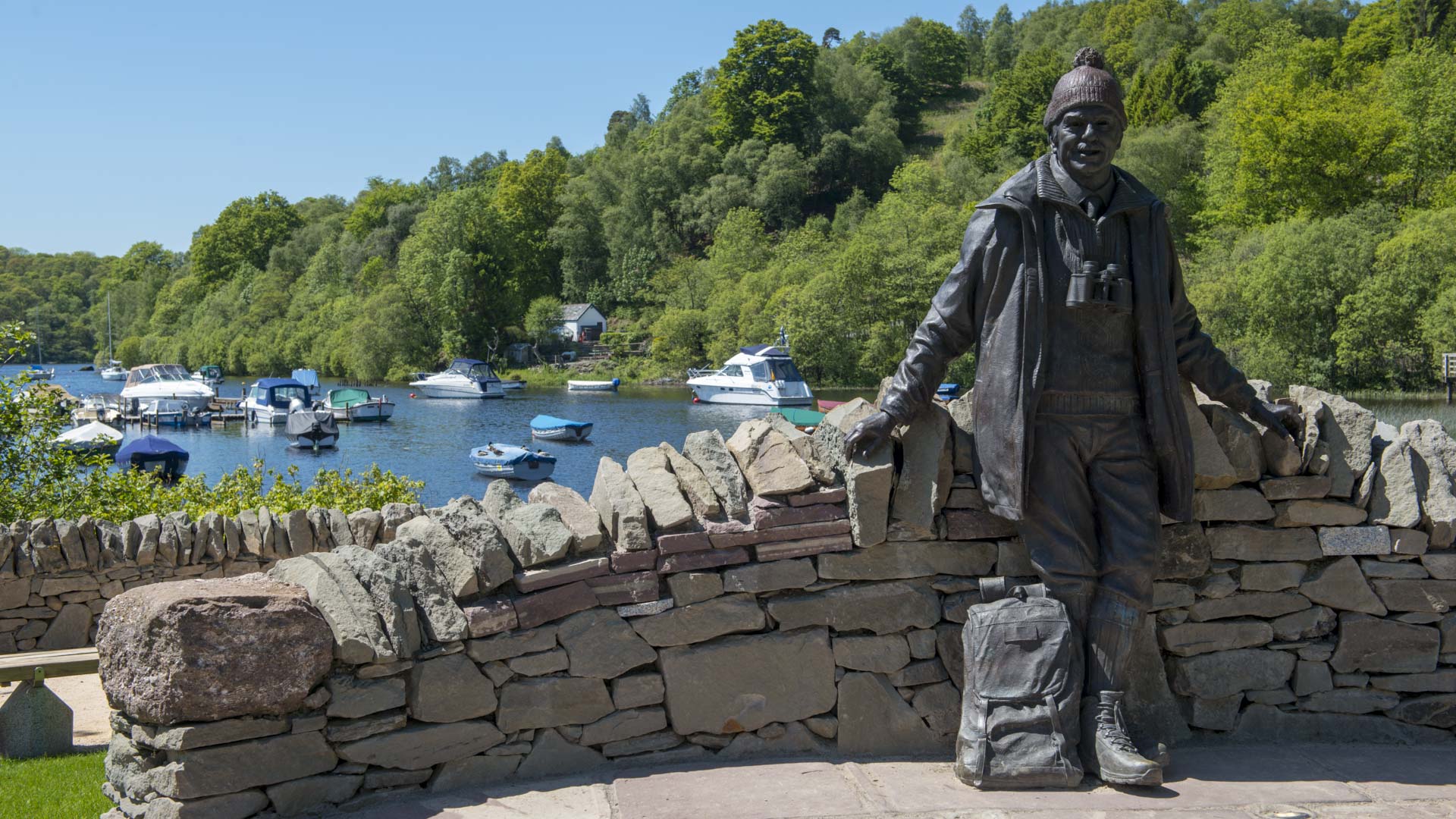 National Park Visitor Centre Balmaha
Make a great day out at Loch Lomond even better by dropping into the visitor centre at Balmaha. Discover what makes this loch and village on the edge of the Highlands so special.
The new Tom Weir statue is worth a visit.
The statue was unveiled on December 29 2014, the centenary of Tom's birth. Tom was best known for his long-running STV show Weir's Way, as well as his trademark woolly red hat and fair-isle jumper.  He was also an active campaigner for the protection of the Scottish environment and the first recipient of the John Muir Award for Lifetime Achievement..
Tom passed away in July, 2006 and is buried in the grounds of Kilmaronock Parish Church, near Drymen.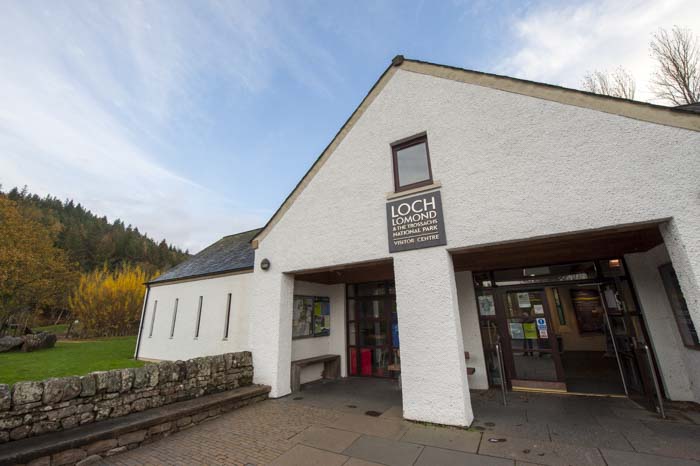 Macfarlanes Boatyard – More …
At the boatyard you can hire a boat and buy fishing permits .
From Balmaha you can also visit Incailloch the nearest island to Balmaha.
There are two walking routes on the island – the Low Path and the Summit Path. They can be enjoyed separately or together. Stopping points are marked with numbered posts on each path which relate to the sections in the Walking Guide.
Balmaha Loch Cruises
This year there are even more cruises and water bus services to and from Balmaha. There is a new pontoon at Balmaha, providing disabled access for the very first time.
The arrival of the pontoon is opening up brand new water based activities for East Loch Lomond. We are delighted to welcome Cruise Loch Lomond, who are celebrating their 40th anniversary this year with their new services from the pontoon. 
Sweeney's Cruises will continue to use the Old Pier. Tickets for both operators are available from the Village Shop.
Balmaha Circular Cruise
Cruise Loch Lomond – Services: 23rd March and 4th November
A 45 minute cruise, with live commentary around the Loch Lomond islands. Price: Adults £10, Child £6.50 Family (2+2) £30 (2+3 £33).  Departures day at 11.00, 13.45 & 14.30.
Luss & Balmaha Explorer
Cruise Loch Lomond – Services: 23rd March and 4th November
Cruise to Balmaha, departing from Luss at 10.15 and 12.30 – returning to Balmaha at 15.15 or 17.00
Cruise to Luss, departing from Balmaha at 11.45, returning at 16.15
Price: Adults £13, Child £7, Family (2+2) £36, Family (2+3 ) £39
Ferry/Waterbus Service
Cruise Loch Lomond – Services: 23rd March and 4th November
Departing Balmaha (for Luss) at 11.45, 14.30, 16.15
Departing Luss (for Balmaha) at 10.15, 12.30 & 15.30
Price: Adult £10 single £13 return – Child £6 single £7 return
Sweeney's Cruises – June, July & August 
Sweeney's Cruises operate from the Old Pier in June, providing their ferry/waterbus service
Departing Luss (for Balmaha) at 09.50, 11.00, 12.40, 13.50 & 15.00
Departing Balmaha (for Luss) 10.20, 11.40, 13.30 & 15.00
Price: Adults £8.50 single £12.00 return Youth (12-15) single £7, return £9.50
For the adventurous, you can see Loch Lomond by Canoe.
Canoes and kayaks can be hired from Balmaha House  Tel:01360 870218  and can be launched directly opposite the bed and breakfast. This is a great way to explore Loch Lomond and its islands. Located right on the shores of Loch Lomond and just some 5 min paddling to the first of the Islands (Inchcailloch), where you can hop on and explore other islands with castles, deer, capercaille and even wallabies, ancient graveyards with the burying place of Rob Roy`s cousin and some of the most scenic landscapes in the world. Loch Lomond is 25 miles long and offers a hugh variety of places to see from the water. All safety equipment is supplied and a packed lunch can be provided for guests.
When you have had a good walk round Balmaha you can relax with a coffee and some homemade ice cream in the St Mocha Café or if you'd like something stronger why not try some beers from the Balmaha brewery in the Oak Tree Inn
You can be assured that a warm welcome awaits you in the Oak Tree Inn, with dining outside in the summer and a huge roaring log fire inside to warm up a winter days. Our bar has an extensive range of malt whiskies and locally brewed real Scottish beers and ales, courtesy of our very own Balmaha Brewing Co.
Constructed from a 300year old Elm tree, the bar is an ideal spot for you to enjoy a quiet drink or indulge yourself in the stimulating atmosphere of both local and fellow travellers' company. They have at least 500 malt whiskies available and the locally distilled 10 year old malt is Glengotne, which has won many prestigious awards.
Eat in the bar, restaurant or outdoor areas. Or if you want you can get a carry out menu which you can order then take back to the lodge. 
St Mocha, their coffee shop & ice cream parlour, next to The Oak Tree Inn has a lunch and snack menu available.